---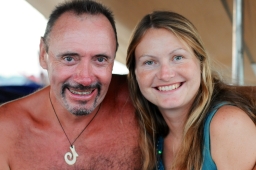 Article from Lymington Times, published on 06.07.2012
---
Around the world sailing expedition 2009-2012
---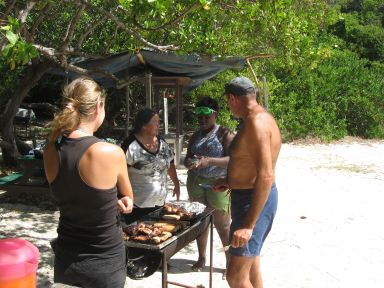 February 2012, Antigua:
Picnic with Good Shepherd Childrens Home, Great Bird Island-Antigua.
---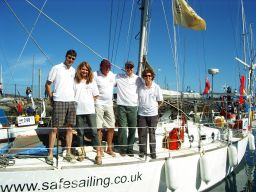 Atlantic crossing, Cannaries to Antigua 2006
The Limerick Log by Francis with contributions from Sandi and Steve:
28th November 2006
Black Arrow is the name of our yacht
being steel, she can cope with a lot.
She'll hold firm in a gale;
There'll be no need to bale,
and we'll try for that last extra knot.


Our skipper is called Simon Smith;
for safe sailing, he has quite a gift.
His sense of childish fun
makes him ever so young.
When 'tis rough, he gives us a lift.


Gosia, the Bosun, from Poland,
is glad to be out of the Solent.
In her little black dress,
She can dress to impress
We get weather from Dad in the Poland.


And Steve, he flew in last week
with three weeks off work as a treat.
He bought us steak in a tin,
nine cans he got in
but his baggage was not at all cheap!


We hope that we will all survive,
and remain a full crew of five.
Now we're pushing on time,
and stretching the rhyme
There'll be more before we arrive.



Log by Sandi:
4th December 2006
19.40'889N 29.46' 696W
11 days to go at this speed, touchwood.
Black Arrow has spent the last 3 days in mod to rough seas F4-5 doing 7kts down wind. We understand we have taken the more southerly route compared too much of the fleet.

I saw my first flying fish yesterday and overnight, two-committed hari-kari on deck. Gosia is anti live fish and can scream loud enough to wake us, we are trying not to imagine what will happen if one hits her. They land like lead balloons and flap desperately trying to get back to the sea. Steve and I think they are like self-seeking missiles homing in on the cockpit.

We received an email from the Arc office; Mustang has been dismasted about 400 miles ahead of us and has the mast hanging over the side. The requests have been for an angle grinder and fuel. We will assist if we can.
*****************************************************************
"Family Story", article about Simon teaching 3 generations family seemaship skills.
''Saturday afternoon in the Solent and divorce was in the air. Across the pontoon, a couple had made a pig's ear of mooring their Bavaria. Raised voices, red faces and the neighbouring boat's gelcoat at risk.
Our crew puttered up in the tender, offered their help and were told to 'clear awff'. Put yourself in the Bavaria owners' deckshoes. The offer of help had come from a tender with an average crew age of 9.8 years. David, aged 10, spun the dinghy round like a pro and continued the tour of the marina.
These infants had just moored their Oyster 406 with more efficiency and less fuss than many a crew stiff with yachtmasters....'
An account of Simon teaching a mother and her five children aged 4-14 to sail the family yacht. Read the full article. (Written by freelance writer and author Peter McGrath).
Below: The skipper and young crew of Matriarch prepare to come alongside under Simon's guidance: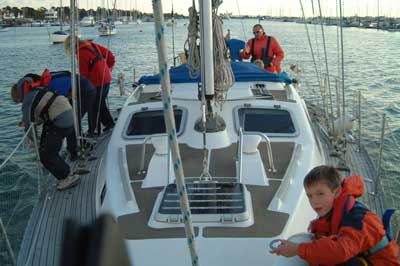 ---
Fraser Old narrates and navigates his yachtmaster exam in the Solent
During the afternoon, we generally chilled out and tried to get our heads round what form the exam might take. It was still blowing hard, so we didn't know how adventurous the examiner would be. N had decided a couple of days earlier that he needed more experience before tackling the exam, but had sportingly agreed to stay on with J and me so that we were not left short-handed. We were very grateful for this, and in the event he also took on a lot of the galley jobs leaving J and me free to concentrate on the sailing. J spent a while mulling over likely passages, but since this was my home water, and also since there was a possibility that the exam might be completed that evening, I didn't do any specific planning.
Jim Bryson, our examiner, arrived shortly after 5pm and we had a brew while he completed the application forms. He then gave us a briefing which was very much as we expected, emphasising safe management of the yacht, that the skipper should helm as far as possible, and that MoB exercises should be done under sail. He also said that he was prepared to lend a hand if needed, but in that case he would prefer to take the helm so that he could continue to have oversight of everything that was going on. He then asked J to prepare a plan for a passage lasting 2 to 3 hours.
While J was doing his plan, Jim asked me to walk him round the safety features on deck. This I did, concentrating mainly on the cockpit area (liferings and dan buoy) and showed him the liferaft stowed under the seat. He quizzed me in detail on the liferaft, asking how I would launch it and what I would expect to find in it, and also what I would take with me if we had to abandon ship. Although we hadn't had time to cover the liferaft during the previous week, I had done a sea-survival course and felt confident about giving him good answers on this topic. I also told him that there were jackstays running forwards from the cockpit and he used this as a reason to walk up to the foredeck. Once up there he asked about the anchor, what type it was and what it was good for. I told him that CQRs were good in mud and threw in some comments about not being good in weed, for which we would need a Fisherman. He also asked whether it was an all-chain rode. I hadn't been on the foredeck when we anchored on the first night so didn't know the correct answer, but made a sensible guess at 10m chain plus 15m warp. I was stumped when he asked me if the bitter end was fastened to the boat, but I guessed he wouldn't make me take it all out in the dark to find out so I told him it was. I could see he was looking for something else, so I extemporised a bit, saying that this was ok on a boat with an open anchor locker, but on our own boat which had a hawse-pipe, I had a piece of rope on the end of the chain so that the join could be brought up on deck and cut if the anchor had to be buoyed and abandoned. This seemed to be what he sought, because he thanked me and walked back aft.
We then left the mooring, motoring out into Southampton Water where Jim asked J if we could put up sail. N and I hoisted sail for J and we worked our way down to the Hamble, which was J's destination. All went well until we got near the tip of Hamble spit, where it was hard to pick up the first leading light. It was still blowing SW maybe 6, and life got a bit hectic. I was looking after the sheets trying to sail the boat well, and also to pick up the light, so I don't have a really good recollection of every detail, but I think J was trying to make his entry without doing the very elementary thing of going out to the S cardinal and running in. At one point I heard Jim urging J to round up because the depth had decreased rapidly in the last 30 seconds, and I also recall that at one point J hove to in order to sort out his exact position and the next steps. We then entered the river (don't remember exactly how) and I was helming by then while J did the pilotage. I remember hearing Jim ask J how many greens there were (J didn't know) but when I saw the bank ahead of me where the river turns to starboard, I altered course, partly because I knew that was what the river did, and partly because I was on a boat that went aground there many years ago, so I am sensitive to that particular area. Jim asked me not to alter course without the skipper's direction, "….although I sympathise with the instinct", he said (Hamble turned out to be Jim's home port.) When we got into the river J was asked to moor up on the visitor's pontoon and he originally asked us to prepare for starboard side to, but by the time we got ropes and fenders to hand, Jim had suggested the other side of the pontoon where we would be blown on. We moored up very sweetly and J breathed a sigh of relief, saying he felt "….somewhat flustered".
While N and I finished mooring up, Jim did his debrief with J and then we had a quick supper. I was asked to prepare my passage, which I found difficult. Portsmouth was a good 15 miles away and therefore too far, Beaulieu was a dead beat and therefore a no-no in this wind, but Cowes was just about on, being 8 – 10 miles away, but would still be difficult. Jim said "Ok, think about Cowes", but it was still an awkward leg around the Bramble. I was still working out the exact courses for the individual legs a few minutes later when Jim came back to ask how it was going. As we discussed it and I outlined the difficulties, he was both guiding and encouraging, saying "now that you are putting in the detail, the problems are becoming clearer." During this part of the conversation he asked me how much I allowed for leeway, and I said maybe 5 degrees on the wind for this kind of boat, but nothing off-wind. He asked for alternatives and I explained Portsmouth was much better, being down-tide and off-wind, but too far to reach in 2 – 3 hours. Other alternatives were to go back to the Itchen, or to go out and return to the Hamble. He said he didn't want to be in Southampton Water tomorrow, so Portsmouth it was, and we should get on with it. He then gave me a specific briefing, asking me where the wind direction was, and urging me to set a safe and prudent course taking account of the lee-shore opposite Calshot. I took careful mental note of what he said and planned accordingly.
We set off promptly, with J and N pointedly rigging a stern spring just as we had done when we left the fuelling berth earlier in the day, so that went very smoothly. I set the main as soon as we entered the piled section, running out on the leading lights, telling Jim what I was doing. He asked what the course was to the entrance. I didn't know, and explained that I was using the lights, but I got the message. Once out near the S Cardinal at Hamble Point, I had the guys hoist the jib and handed the helm to N, instructing him to keep REACH (Fl 3) open to the left of HOOK (QG) as we ran down to the N Cardinal (CALSHOT). As we passed HOOK I kept N on the transit with REACH and CALSHOT, and then on the back transit until we got into the North Channel. I chatted to Jim on the way down; he had been concerned to know that we had swapped the batteries over when we switched the engine off, and I told him about the new system I had just installed on our own boat to do that sort of thing automatically.
It was a fantastic sail as we bore off towards Gilkicker. Jim said it was a much easier light to find than the Hamble entrance, and so it proved. Two or three times on this leg Jim asked me where I was, and what and where my next mark was. Happily, I was able to tell him, but half way down, we whistled past an unlit racing buoy which I hadn't expected to see. Also, I was concerned that I wasn't seeing the increase in depth that I had expected, so I asked J (on the helm by then) to let her round up more to the south in the gusts. Shortly afterwards, still in about 4 – 5 metres of water, Jim asked me about a starboard hand pile which we had just passed, and where it was. It was then obvious that we had been set down into Stokes Bay quite a bit and I altered course to come back into the deeper water (and stronger favourable tide) of the North Channel proper.
When we got south of Gilkicker, I wanted to alter course to come NE along the wall at Haslar, but that put us on a dead run and I was a bit nervous about that in this wind strength. Jim asked me what we could do about the main, and I suggested using a preventer. He asked for any other alternative, and I suggested bowsing down the traveller on the lee-side. He then asked if we needed it at all, and I answered to the effect of "no way, and the only reason it is up there is because I thought you would want to see the yacht under both main and jib". He assured me that this wasn't so, so we stowed the main in double-quick time and ran in along the wall. He asked for the course to steer, but this time I knew – "050" I told him. I knew there was enough water under the wall, (Reeves-Fowkes again) but there were also three or four unlit racing marks. When I voiced this concern, Jim said "so what is everybody going to have to do?", prompting us all to keep a good look-out. When we got near the entrance, I asked him if it would be ok to start the engine because the boat had slowed down, and we would have to start up anyway as we entered through the small boat channel. He said "You're the skipper", so we started up and went into Haslar Marina.
When we got there, I asked J to call up and get us a berth. He came back with instructions to lie alongside Bonaventure behind the lightship. We rigged for starboard side to, and as we crept into the sheltered basin (which is a dead end) we saw Bonaventure a few feet away, stopped, and let the wind blow us ever so gently alongside. It was well after midnight by the time we had moored up. During the debrief, Jim said that the tide sets quite strongly into Stokes Bay, but it's not shown on any of the charts. Other than that, he seemed quite happy.
The next morning over breakfast, Jim gave me £20 and asked me to pay the berth fees. While I was in the marina office, I got a copy of the inshore forecast and Atlantic pressure chart which I took back to the boat. J was given the first task of taking the boat into the Camber and mooring up. Since the wind had dropped a lot, we changed up to no 1 jib. As J sorted out the boat, Jim went through the weather forecast with me and asked questions about the pressure chart. It was one that had the geostrophic wind force scale in the corner, which he asked about in detail. Maybe I didn't explain it well enough first time round, but he wanted to go through it again so I got the dividers and went through it step by step. Since I understand it well enough, I think I did ok on that bit.
As we left the marina I managed to convey to J by a series of winks and nudges that I thought he should call QHM before crossing the shipping channel, but when he went to check carefully, the almanac does not give that instruction, so he didn't. As we approached the Camber, there was a Wightlink ferry alongside with quite a bit of propwash at the bow. I volunteered that the ferries do that to hold alongside the quay, but Jim chided me quietly not to pass over local knowledge unless asked. J's manoeuvring in the Camber went smoothly, with him mooring temporarily alongside a fishing boat.
My task was to leave the mooring, go to the head of the Camber, turn in the confined space, and then cross to pick up a mooring under sail near Burrow Island. Jim said that since it was shallow there, he was happy for the engine to be left running but he wanted the pick-up done under sail. I briefed the guys but said that since I didn't know exactly what the wind would be doing until we got there, I would have to decide on the spot whether it was a downwind or upwind pick-up against the tide. I called QHM, got approval to cross the channel (Pride of Bilbao was in-bound at the War Memorial), crossed quickly and comfortably across to Ballast buoy and set main and jib. (Note to self – always check that the volume is turned up on the VHF to avoid the embarrassment of having to ask QHM to repeat his message).
As we approached the mooring buoys, Jim asked me to sail away and make an approach from some distance. As we did so, it was obviously wind and tide together. I tacked round, let fly the jib to check that I could stem the tide on the main, then as we approached we dropped the jib and the guys on the foredeck did a text-book lassoo job with the buoy stationary a couple of feet from the windward side of the stem. Big smiles from J and me, sigh of relief, and Jim asked us to moor up for a while so we dropped sail and brought the mooring warp on to the bow cleat.
Over coffee, J was asked to plan to trip to Langstone while Jim took me through the lights and shapes flash-cards. I didn't know the flags, but he said that wasn't in the syllabus any longer and so we passed over that. I think I got about 98% right – I couldn't remember the length over which a power-driven vessel has to exhibit two anchor lights.
J's passage to Langstone seemed to go fine; he took the inshore passage just by Southsea pier. Shortly before passing through the barrier, Jim chucked the lifering over and J did his MoB without any problem. During the passage, Jim asked me to plan a return passage to Southampton. As I was doing this I could hear J and N motoring hard to pick up a buoy in the flood at Langstone entrance.
We left Langstone as soon as I had the first couple of legs planned. I wanted to take the shortest route but use the flood tide, so I came inside the Isolated Danger and back through the barrier at the middle passage. I resolved a few minutes confusion over Langstone Fairway mark by reading the chart carefully. It's now 7m high, so obviously a large lit pile has replaced the red and white fairway buoy which I remember from a few years back. N produced lunch as we motored to the barrier, Jim asking for my strategy on each leg.
Beyond Gilkicker, Jim asked if we could possibly sail (we could, but not in the direction we wanted to go), so I wasn't surprised to see him out of the corner of my eye fiddling with the lifering. Sure enough, it was my turn to do the MoB and N picked it up as we drifted back down to it hove-to. Jim asked if that would have been adequate if the casualty had been unconscious, and I said certainly not because the boat had not stopped. I would have reached away, tacked and then close-reached back under the main. He seemed happy with this and we continued.
Shortly afterwards, as we motor-sailed (with the cone up) back towards Calshot buoy, he asked me to go down below and run up an EP for a while. I started my run at EAST BRAMBLE, picked up tidal info from the nearest diamond, cross-checked it with R-F and planned for a 20 minute run. A bit later, Jim came down and volunteered that we had just crossed through the transit of N THORN and E KNOLL, so asked where I thought we were. I crossed the transit with my estimated ground track, added on a couple of cables for three minutes for him to get below and speak to me, and stuck my finger on the chart just south of HILL HEAD port hand buoy.
"Come up and have a look", he said. I stuck my head out of the hatch and HILL HEAD was about 150m away just forward of the starboard beam. Jim was complimentary – I felt good about that.
As we bore away up Southampton Water I set the jib again and switched the engine off. It was getting dark and I was getting tired. I felt that I was still in with a chance provided I didn't goof up in the last stages. North of Hamble Point I asked N to run up on the 8m contour, desperately anxious to avoid the unlit mooring buoys, but still wanting to show good seamanship by staying out of the adverse tide on the last leg. Jim asked a couple of times where we were, and I knew pretty well, but I couldn't see the unlits as well as J and N. They were pretty confident, but I came down to half speed as we got to the end of the leg to give myself time to think and react if necessary.
We negotiated the unlits ok, but as we came into the Itchen past Ocean Village, I was concerned to see some Restricted in Ability to Manoeuvre lights pull off the jetty. I watched him show first green, then red and green, and then red, but I was so dog-tired that I felt as though I was floating above my own head watching my brain try to sort out the lights amongst his deck-lights. After a few seconds, I took the wheel, and just tucked the boat in to stem the tide next to a pile until I got it sorted. We then crept past him, went under the bridge and approached the pontoon.
I was very aware on the last few hundred yards that the tide was ebbing rapidly and I remember looking carefully at the base of the piles in the dark to assess just how hard it was running. I thought I got it right and turned in to lie alongside the other Yamaha already there, but had under-estimated slightly and had to put a hand out to fend the stern off the bow of the Westerly moored behind us. We came to rest gently alongside, but a little further back than I intended and we had to warp forwards a couple of feet.
We made fast, and Jim gathered his things together, asking us to moor the boat for a long stay. He then called J on to the pontoon for his final debrief and result. When he came back on board he was obviously very disappointed as he jerked his thumb downwards and asked me to go and speak to Jim.
When I got there, Jim asked me how I thought it had gone. I told him I was reasonably happy on balance, and that the few wobbly moments had not been dangerous. He raised three points with me:
• I had got a lot nearer the shore than I intended in Stokes Bay. I agreed but said I had picked up the problem myself and was working on it when we passed the pile on the shore.
• It had taken me a long time to sort out the nav lights on the dredger on the last leg. I accepted this but said that I had done something safe with the boat while I sorted myself out.
• I had misjudged the tide on the final approach. Again I agreed but said that we had all been there, and that the boat had been moving very slowly and the only potential damage was to my pride.
He accepted my arguments and said that overall he was happy to recommend my application for Yachtmaster and that I should receive my certificate within a month.
After that, there was really nothing else to do but find N a taxi to the station, and take J ashore for a couple of beers and help him plan his campaign to resit the exam.
Fraser Old 23 Nov. 03