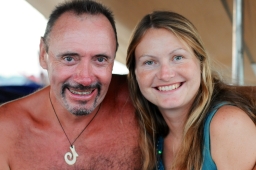 Couple back home after 33,000 mile world sail.
A husband and wife have arrived back in Lymington after completing a 33,000-mile circumnavigation of the world in their yacht.
Simon Smith who owns local boating school Simon Smith's Safesailing, set off with his wife Gosia in September 2009 and returned to a welcoming party at the quay last month.
Joined by various crew at different stages of the journey, the couple travelled on board Black Arrow, a 40ft steel sloop which Simon also uses as a training vessel for his students.
"It was my dream since the age of 10 to sail around the world", said Simon. "I have been a sailing instructor for the last 20 years-I've always wanted to sail."
The pair set off with a small crew for the first leg of the trip to the Channel Islands and down the coasts of France, Spain and Portugal, where they stopped fishing villages along the way.
They headed for Morocco, which has only recently started to welcome yachts and the Canary Islands before spending 23 days crossing the Atlantic to Antigua.
They travelled to the San Blas Islands off the coast of Panama, where thay were welcomed by the Kuna Indians who inhabit the islands and live by fishing and weaving. Despite being extremly poor, they gave Simon and Gosia gifts of lobster and fish.
From there they travelled to Panama and out to the Glapagos Islands, off the coast of Ecuador. "Cruising amongst these beautiful islandswas living a dream", said Simon.
They visited Tahiti and Bora Bora and spotted whales, sharks and turtles in Tonga and Fiji. They crossed the Indian Ocean in 57 days and skirted around Australia before heading to St. Helena in the south-east Atlantic.
"St Helena is isolated and remote with no proper harbour, no airport and no mobile phones", said Simon. "The style of the town was reminiscent of Lymington with older English houses and small streets. Everyone wanted to chat to you and life was at a very slow pace. It was a very special place".
The couple spent six months exploring Brazil, then moved on to St Lucia, Dominica and Antigua-where they found out that Gosia was pregnant.
"We were very excited and Gosia is due on August 5th", said Simon. "We have decided on the name Jack for family reasons and are nicknaming him Captain Jack after captain Jack Sparrow (from the film series Pirates of the Caribbean) because he's likely to spend a lot of time on the water".
The copuple moved on to Turks and Caicos islands off the coast of Cuba and Haiti, where Gosia left for safety reasons and Simon was joined by a crew for the challenging journey on to Bermuda and Azores, before heading to La Coruna in Spain for the final five-day leg back to Lymington.
Simon said: "We had a party on board with my three grandchildren and two children and a whole group of friends came down".
"It was a fantastic trip full of experiences and new friends but the best bit of the whole trip was getting back to see everyone".
Simon is now planning his next expedition due to take place in around two to three years time. He will be travelling 10,000 miles on a 10-month venture to spend summer in the Arctic before heading south to summer in Antarctica. He is looking for a crew to join him and will provide training for the trip.

Article published in Lymington Times on 06.07.2012
For more information go to: www.safesailing.co.uk